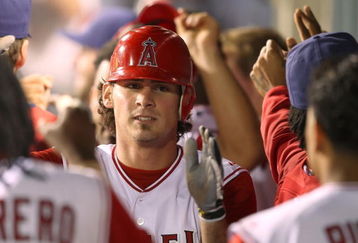 ... of the line in the Roy Halladay sweep-stakes.
While much of
the speculation
has been on which arm they may throw Toronto's way, with the likes of Ervin Santana, Jered Weaver and Joe Saunders leading the way, its also who would be the 2nd piece to the puzzle that should be key.
The main piece could be Santana, who'll be due $6 million next season in just the 2nd year of a 4-year, $30M deal (plus a club option); those numbers are palatable when considering that Halladay's final year calls for $15.75m this coming season. It would probably mean that the club would also speed up its efforts to dump Lyle Overbay (due $7m). Both Weaver and Saunders are up for new deals after earning nearly half-a-mill each last year.
This is a revisitation of a prior exchange where ex-Jay gm JP Ricciardi was trying to pry one of Weaver and Saunders, outfield prospect Peter Bourjos and shortstop Erick Aybar from the Angels arms. I'm wondering if new Toronto gm Alex Anthopolous is more amenable to taking Santana or Weaver, shortstop/third baseman Brandon Wood and one of shortstop Rolando Gomez or lefthander Alex Torres.
While carving the budget deep is the prime motive, the Blue Jays need to have some MLB ready players to keep them competitive -- but not too competitive (because having a few terrible seasons with great draft picks would turn the team around faster than trying to stay afloat while your divisional rivals (Boston, Baltimore and NY) go on spending spree after spending spree.
Wood is drastically in need of a change of address, as Angels manager Mike Soscia has shown no faith in the minor league bopper. The 24 year old Wood has done all he can in the minors and needs a steady opportunity to take the next step -- but Soscia is no fan.
While the rumours of a Dodger-Jays deal have died down, they likely spiked the Angels attention. The Dodgers would be willing to part with arbitration eligible and Canadian catcher Russell Martin and James McDonald, but are not going to give up a Billingsley in any swap.
Now internet chatter is picking up the idea of Toronto trying to lure outfielder Jason Bay north. Martin would be a better catch as he's younger, plays a more critical position and is, at least for now, considerably cheaper. He's also a proud Canadian, unlike the greedy Bay.